Roof Replacements Sacramento
Roof replacements Sacrtamento. Roof replacements are important re-roofing projects that require careful planning and consideration. If your roof is leaking, sagging, or deteriorating, or if your roof may have reached it's designed lifespan, contact a reputable and experienced roofing contractor that specilaizes in your roof type, as attempting to replace your roof on your own can be harder than it looks.
Depending on your geographical location and its local climate, the timing of your roof replacement should be well planned. Except for obvious emergencies, you should consider your re-roofing project at a time when youare less likely to be affected by rain or snow so that you can avoid damaging the interior of your home and your posessions.
We are experienced, knowledgeable, and reputable roofing experts that can guide you through your roof replacement project.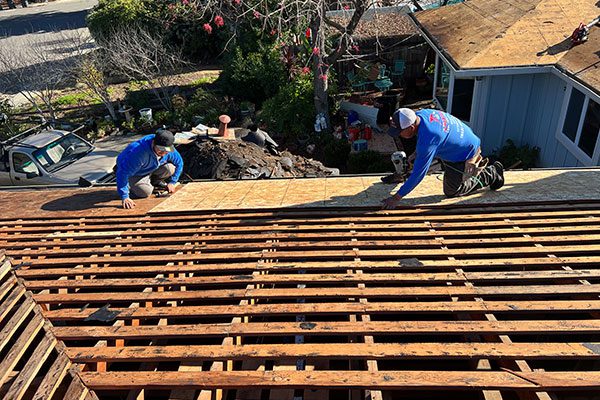 Roof Replacements Sacramento-Roof Types
At American Cool Construction, we specilaize in various types of roofing materials. These include:
Asphalt Shingles
Concrete Tiles
Clay Tiles
Wood Shake
Wood Shake replicas
Flat Torch Down
We use durable, American-Made products for our roof replacements and we offer some of teh best warranties in the business. Please ask for details at your in-house estimate appointment.
Why Choose Us for Your Roofing Project?
We are a highly rated and trusted roofing company in your local Sacramento area. We strive to deliver top quality roofing materials and workmanship.
Satisfaction guaranteed. We are proud memebrs of the Google Guarnatee program. We also offer convenient financing options as well as generous seasonal discounts for your nneded roofing project.
We treat you and your home with respect and will provide you with an honest and hassle-free quote/estimate.
NO NEED TO WAIT-FINANCING AVAILABLE
916-833-4246


Service Areas
Sacramento
West Sacramento
Elkgrove
Citrus Heights
Davis
Folsom
All of Sacramento County
Roofing Services
Shingle Roof Replacements
Cool Roofs
Clay Tile Roof Replacements
Torch Down Roofing
Metal roofing
Concrete Tile Roofinf
Shake/Wood Roofing