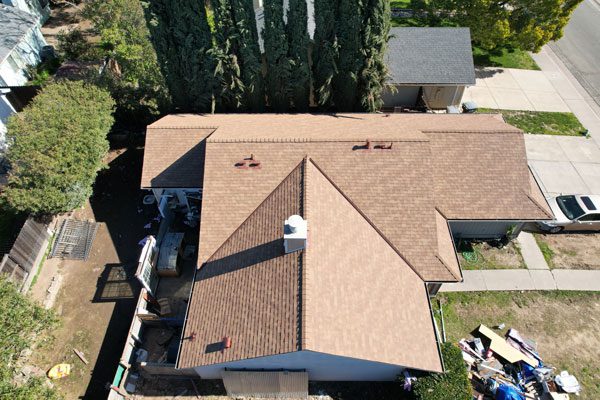 About This Project
Shingle roof replacement on a single family residential property in the Valley High/North Laguna neighborhood, Sacramento.
Project Title

Roof Replacement Sacramento, CA

Category

Shingle Roof Replacement

Location

Sacramento, Califorina 95823
Shingle Roof Replacement Sacramento 95823
Roof replacement project in Sacramento, CA. Shingle roof project for residential home.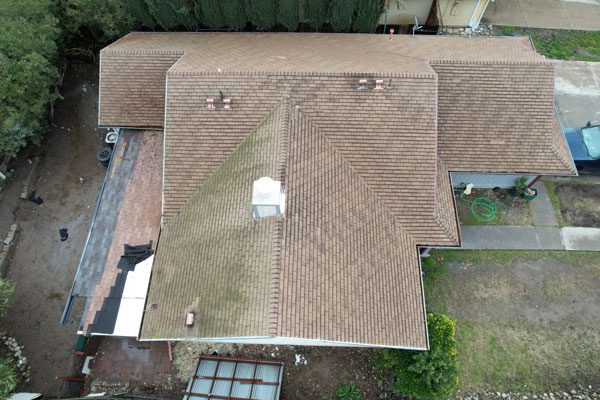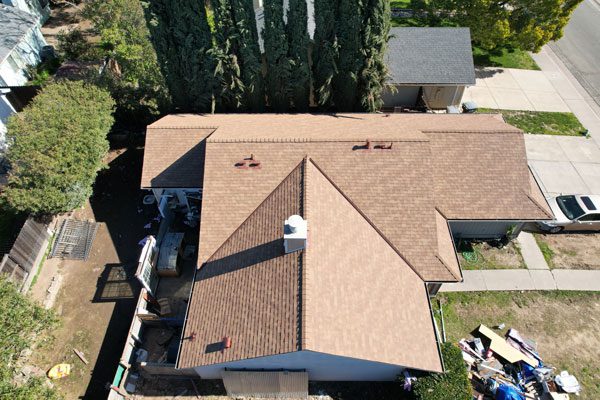 Shingle Roof Replacement in Sacramento, CA
Another successful roof replacement project. The roof on this Sacramento home was leaking, and was only getting worse. The seeping water was causing the shingles to detach from the roof in several spots. While some green mold growth was visible from the ground, we quickly established the extent of the damage through the use of our aerial drone. Sometimes it's hard to tell if your roof is still in good condition or what the roof looks like from the ground. We can help you with roof replacement, roof repair, roof replacement for residential buildings, or roof replacement for commercial or residential buildings.  We can help you replace your roof and get your house back in great condition. We are a roof replacement company with a mission to help people save money and get the job done right.
Look for a Sacramento roofing company that uses aerial drone footage to assess roof damage before hiring your roofing contractor. A drone is a small aircraft equipped with a camera. The aerial drone footage allows the company to get a good look at the entire roof in various angles to better assess any roof  damage. The drone is a great tool for roofing companies to use because it is able to get a good look at the roof from above. It can also take pictures of the roof that can be used for insurance claims.
American Roof & Construction has been using drone technology for years and we use it for every job/roof replacment assesment. Contact us today to learn more.
Hassle-Free & Honest Estimates
Seasonal Discounts are available. Easy financing options-No need to wait for that new roof.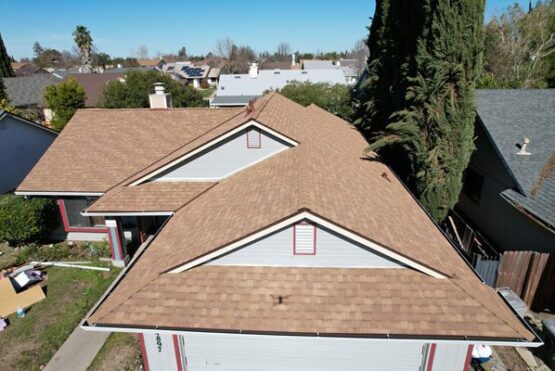 Tips for Hiring Your Roofing Contractor.
Your roof is the part of your home that protects you and your family. Your home's roof is essential to the safety and integrity of the building. If you don't make a good decision when it comes to who you hire or the materials you use, it could be a costly mistake.  Keep reading to gain more knowledge on what you need to know about roofing.
Prior to signing a contract with a roofing specialist, there are a few questions to ask. If you're going to hire someone to work on your roof for you they need to have credentials that are up to date. Generally, any roofer you hire will need to have a current and valid state license. They need to also have insurance that is full liability, as well as a certificate that's current and covers workers' compensation.
When you have come up with a short list of possible contractors, check with each with regard to their warranties. You're seeking out a warranty that will last you for at least 3 to 5 years. The longer it lasts, the better it is. It needs to cover poor workmanship and defective supplies, and you should have copies of all the manufacturer warranties, too.
Consider hiring a contractor who manages a team of workers, as opposed to an individual. A group of roofers are able to finish jobs quickly and that can end up costing you a lot less. If you have one doing it alone, be sure they're not overcharging for labor.
When deciding on a contractor to work on your roof, inquire as to how long that company has been in business. Contractors who have a long work history are more likely to provide excellent service.
Do not try to cut corners when it comes to buying quality roofing materials for your home. The cheapest supplies aren't necessarily the best option as they can end up costing you more money down the road.